Background
There are many reasons to want to reset your printer to factory settings: perhaps you want to sell it or send it to your mom to use.  Or like me, you have had all kinds of problems and want to start over.  I've had lots of issues with my HP OfficeJet 9015e inkjet printer:
Cannot access the web interface.  It turned out, you cannot use a host name (https://printer).  You have to use an IP address (https://192.162.0.11)
Network drops
Samba problems
Prints lots of pages at a slight angle
My daughter has the same printer and has had no problems with hers, though she asks less of it than I do.
Anyway, I wanted to do a factory reset to erase all settings and restore the printer to state it had when new. There is an option in the regular menu system (Settings -> Printer Maintenance -> Restore) that says "Restore Factory Defaults".  This did not seem to reset some settings I expected it to, though I cannot remember exactly which. I cannot tell you the difference between that function and the factory reset described below.
The Secret HP Does Not Want You To Know
HP hides the instructions for a factory reset for reasons only a big company can understand.  In order to get this magic information, you have to register for their support site, request the instructions, then they will send them in a private message.  WHAT?!
It turns out there is a secret "Support" menu.  I don't know what all is available here, but I while poking through, I looked at the "Assert Log" under the "Information Menu" and it threw the printer into some error condition that required unplugging the printer to recover.  So do use caution in here.
Factory Reset
On the bottom left side of the printer control panel where the Return icon displays, touch the area four (4) times. During this step, the Return icon is not illuminated.
NOTE – You are touching a button that isn't there or visible anyway. The place in the bottom left of the screen where the return icon or back arrow would normally appear, touch it four or five times, until the text "Support Menu" appears. This is the hidden menu system.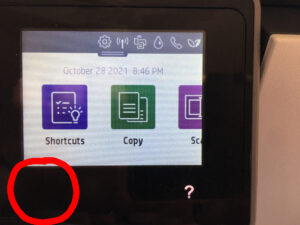 2. Touch "Support Menu".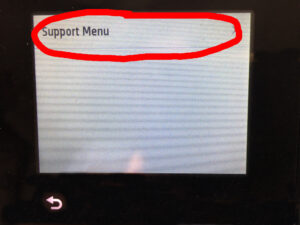 3. Touch the right arrow, until you see "Resets Menu", and then press "OK". You can use either the down arrow on the right side of the screen or the right arrow at the bottom. Actually you can use any of the arrows, the two sets perform the same function. Use the 'X' icon to go back if necessary.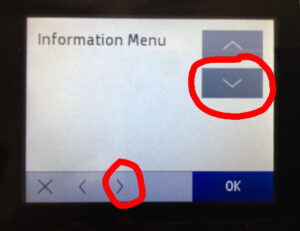 Once you get to "Resets Menu" touch "OK" in the bottom right.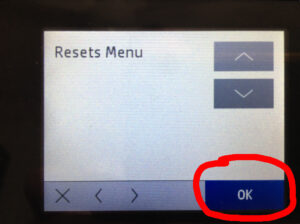 4. Again, use the arrows to navigate to "Semi-full reset". There is no "Full reset" or Full-full reset". I don't know what makes it semi full instead of full reset, but this is how to do a factory reset.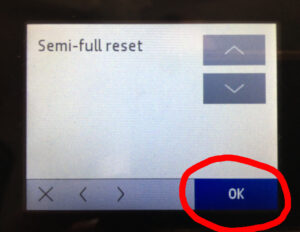 5. Wait for the unit to Power Down/Turn Off.
6. Press the Power button to turn the Printer ON
Conclusion
That should do it. You now have a printer that, from a configuration standpoint, is as close as you can get to factory as possible.
HP OfficeJet 9000 Series Printer Factory Reset